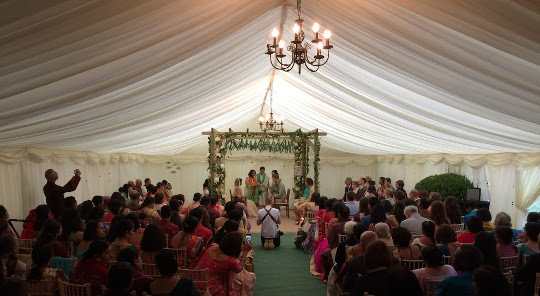 We like a challenge at ABC Marquees, and today's post helps us prove that "no space is too small"
(or complicated) for a beautiful wedding marquee … or two!
A lovely couple living in residential Sutton decided to have their wedding ceremony and reception in
their very own back garden, within two elegant nature-inspired wedding marquees – one as the
ceremony venue and the second for dining.
The interior decor of both marquees took inspiration from their surroundings with a natural green
and ivory theme, to include the already present garden shrubs and an ivy covered pagoda. However,
the giant tree in the centre of the garden (and also the centre of the ceremony marquee space), was
a bit of a surprise for our installation team!
The frame for the marquee, measuring 9m x 27m, was delicately contructed around the tree trunk
with the branches reaching out above the marquee frame's "roof". Once the marquee canvas was in
place, elegance was added to the venue interior with ivory coloured roof linings, wall linings and
swags, carpeting and three of our popular 8 arm Chandeliers in black, which create an ambient light
during both the day and the night. The simple colours of the marquee interior perfectly
complemented the colourful traditional Indian dress of the bride's family on the day.
Our team also helped construct the wooden pagoda used to create an area inside the marquee for
the wedding ceremony itself, which was then covered with white flowers and trailing plants.
The dining marquee followed the same ivory and green theme, measuring 6m x 12m, stretching the
wedding venue across both the wedding couple's garden and part of their neighbour's. A third
marquee, 6m x 6m, was used as the catering tent for all the food to be prepared.